Archive
'A little slice of golfing heaven'
Inside TPC Sawgrass' private practice facility for the pros
The TOUR players' practice grounds at TPC Sawgrass

PONTE VEDRA BEACH, Fla. – About 100 yards from the ninth green of TPC Sawgrass' Stadium Course is a small sign that carries a big stick, communicating its message boldly in all caps. That black metal plaque, barely the size of a legal pad, stands sentry at a fork in the cart path. There may as well be a velvet rope across the right half of this divide, or at least a burly bouncer, because only members of a select club may proceed.
"PGA TOUR PROFESSIONALS ONLY" the marker reads.
What lies beyond, past the trees and hedges that obscure the view for the uninvited, is "a little slice of golfing heaven" in the words of David Duval, the former world No. 1 who won both The Open and THE PLAYERS.
TPC Sawgrass was built for spectators, with man-made mounds that fans can ascend to more easily see golf shots, but there remains one piece of the property that is intentionally shrouded from the public.
The back of TPC Sawgrass' practice facility is a sanctum for the sweet swingers, a place where TOUR pros can hone their craft away from prying eyes and 15 handicappers seeking tips to cure their slice. It's a playground where players' imaginations can run wild, allowing them to work on any shot they can conjure.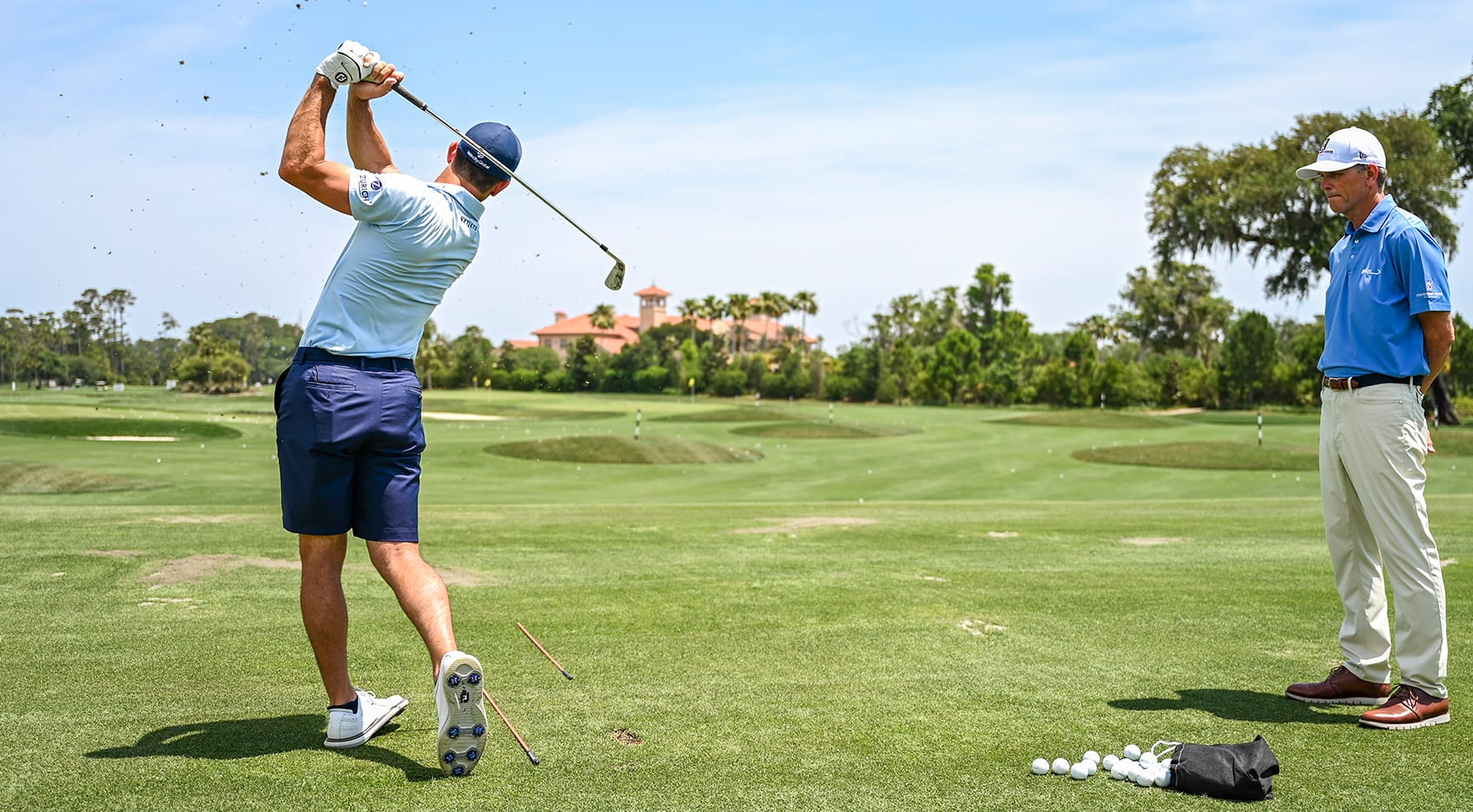 "Endless target practice" is how sixth-year TOUR pro Sam Ryder described it.
Moguls on one portion of the practice tee allow players to hit full shots from sidehill lies, while old oaks provide both shade and obstacles for players to carve balls around.
Players take aim at greens lined with bunkers and the course's trademark railroad ties, as well as small wedge targets whose size is in proportion to their distance from the tee, demanding greater precision from close range. The short-game area allows players to practice shots up to 100 yards long, and there are two putting greens designed for different types of practice.
"If you can't get better there," Ryder said, "then you probably can't get better anyplace."
The plethora of options is a reason Justin Thomas has pointed to the facility as an inspiration for his alma mater, the University of Alabama, as it begins to build a new multimillion dollar training ground.
As TPC Sawgrass prepares to host THE PLAYERS this week, this is a peek inside the players-only portion of the range. World Golf Hall of Famers Vijay Singh and Sandy Lyle, major winners Duval and Jim Furyk and former PLAYERS champions Fred Funk and Mark McCumber have all called the facility home, as do approximately 50-60 pros today.
It is place where players swap stories and swing tips, and enjoy the camaraderie that comes from a vocation that thousands aspire to but few actually attain.
"I think if you picked up anything, it was the necessary work ethic you had to have to be one of those successful players," said Duval, who grew up in Jacksonville but didn't set foot on the back of the range until he'd turned pro. "It's a full-time job."
During THE PLAYERS, that private half of the range provides the setting for a peaceful practice session during one of the most stressful weeks of the year. Tournament week is the only time the public is allowed to observe what goes on back there, but the entrance is so obscure that few take advantage of the opportunity.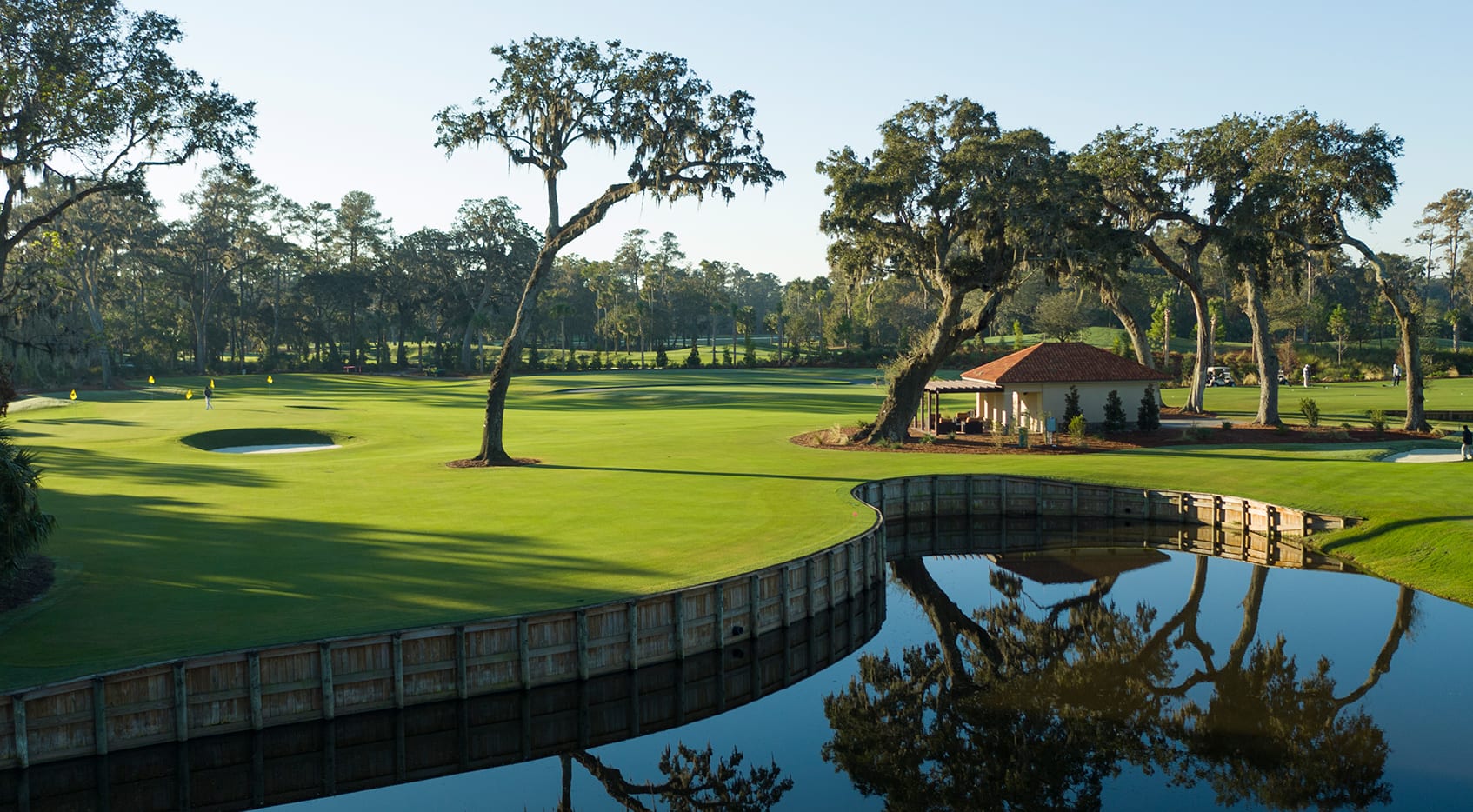 The remainder of the year, it's considered a busy day if two dozen pros are there. That's the way it was supposed to be. Admission to the private half of TPC Sawgrass' practice facility is limited to exempt members of the PGA TOUR, PGA TOUR Champions and Korn Ferry Tour. Even players' sons have been kindly asked to practice on the other side.
Deane Beman, the former PGA TOUR Commissioner, had a goal of creating "golf's premiere facility" when TPC Sawgrass was being built. A home for THE PLAYERS and the players. A top-notch practice facility was part of his vision.
Some players prefer to make the most of the solitude and practice alone. Others learn through observation and osmosis, while the social ones may spar in closest-to-the pin competitions.
A late-afternoon practice session may be observed only by eagles, ospreys and foxes (and a crow who stole Furyk's money clip, requiring an apple picker to retrieve it from a tree). Some players load their cart with bags of balls and fishing poles, the latter providing a diversion during long practice days.
Russell Knox, a two-time TOUR winner who played college golf at nearby Jacksonville University, said access to the range was one of the first things that crossed his mind when he earned Korn Ferry Tour status. Even his local connections couldn't help him gain access during his years on the mini-tours.
"It was a big deal living here and going back there," said Knox. As a young pro, he'd watch some of the Hall of Famers from a distance to learn their ways. "Without being creepy," he added.
He was struck by the different practice regimens of Singh and Furyk, two FedExCup champions and major winners who ranked in the top five of the career money list.
"Vijay just hitting thousands of balls, machine gunning one after another," Knox recalled. "Jim hit 30 balls in 45 minutes, going through his full routine like he was hitting a shot into the last hole of the U.S. Open.
"There's no right or wrong method. Those two figured it out."
A driving range was often an afterthought when TPC Sawgrass opened in the early 1980s, usually reserved for the most undesirable piece of property. It was called "Misery Hill" because only the desperate spent more than a few moments there. That was until Ben Hogan turned practice into an act of religious devotion.
Like many of his generation, Beman was a Hogan disciple. They competed in an exhibition well before the teen-aged Beman won his four PGA TOUR events, and even decades later, as Beman was building TPC Sawgrass, Hogan's wisdom factored into his decision-making.
Beman knew the new course needed a double-sided range so that players could hit from multiple wind directions. Hogan never wanted to hit balls downwind or when the wind was blowing left-to-right.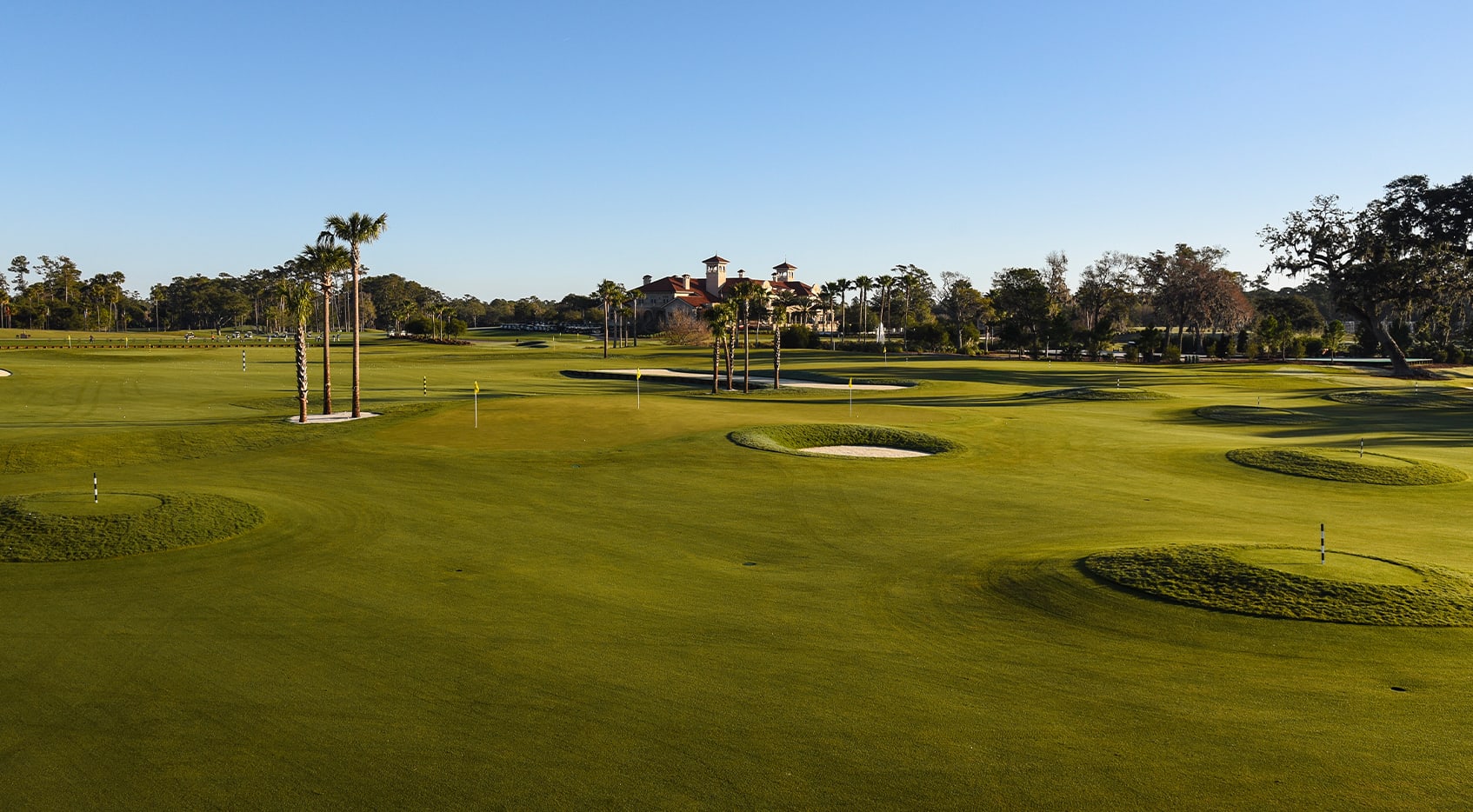 Hitting shots downwind can promote a false sense of security by helping the ball fly straighter. Shots struck into the wind, which exacerbates mishits and sidespin, require a higher degree of precision. A left-to-right wind encourages players to hit shots that curve the opposite direction. It was a hook shot that almost ended Hogan's career.
Like Hogan, the man who has spent the most time on TPC Sawgrass' range used a maniacal work ethic to conquer a costly hook and improbably reach the top of the game. Stories about Singh's practice regimen range from the inspirational to the absurd. His peers shake their heads in bemusement when describing drills that incorporate a variety of sporting goods, from a track hurdle to a baseball tee.
Even at 60, Singh still sets a standard for hard work that players in their 20's aspire to. Singh's former caddie, Paul Tesori, fell asleep while standing up during one of Singh's marathon sessions. He laughed when he saw the next man to fill that role do the same.
Singh also is the unofficial mayor back there, often holding court and offering advice. Intensely private in public, he's known for mentoring young players whose work ethic he admires.
"The last time I saw Vijay, I asked what does it take to be one of the best," said Aaron Rai, a 27-year-old Englishman in his second year on TOUR. Rai recently bought a home miles from TPC Sawgrass. "He said you have to dive really deeply into everything. You have to swim in waters that people don't even think of.
"I think he's still pretty true to the advice that he gave me."
Billy Kratzert, a four-time TOUR winner, remembers seeing Singh hit a heavy, sand-filled impact bag from one end of the practice tee to the other. Another time, he was hitting drivers off the downslope in front of the tee.
There were months Singh hit a majority of his iron shots from a bunker on the short-game facility, sometimes dragging an Astroturf mat into the sand trap so he didn't have to continually rake his footsteps.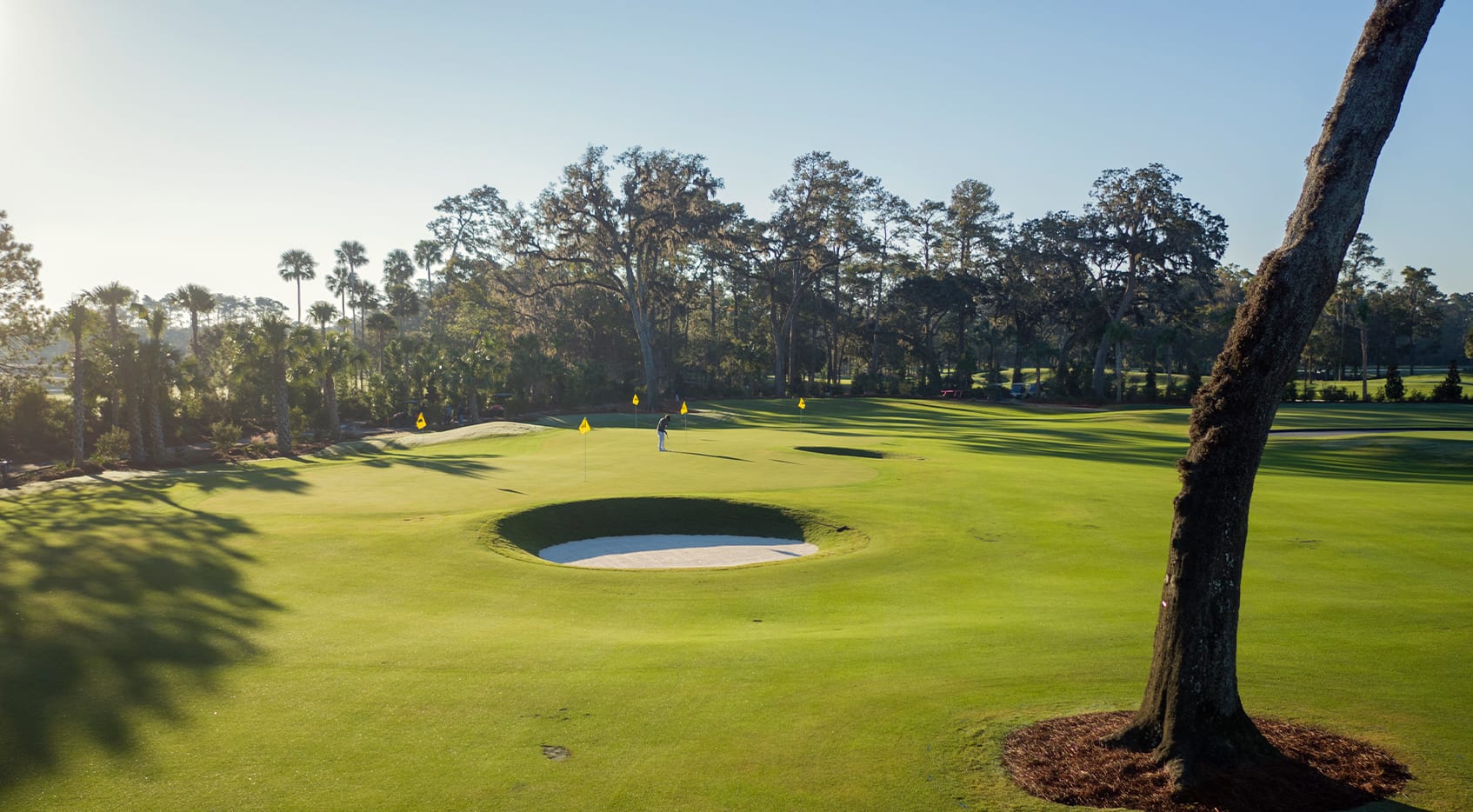 "On more than one occasion, I'd pull up at 9 or 10 in the morning and try to get some balls, but Vijay had them all," said Duval. "They'd have to go pick them up (off the range and get some more)."
Having a player's preferred model of ball was another perk that differentiated the back of the TPC Sawgrass driving range. Pros weren't limited to hitting the striped balls that members used. Knox called that "a huge plus."
The practice facility improved exponentially in TPC Sawgrass' latest renovation, after the 2016 PLAYERS. That's when the mounds and moguls were built to help players practice from something other than a flat lie. So were the wedge targets and greens that simulated shots players would see on the course. A small clubhouse was also added, where players could sit down, get a drink and watch TV when they needed a break.
The short-game area includes two putting greens, a flat one for mechanical work and another one with more slope. Minute details, like laying out the range so players can see their shots land, were the result of player feedback.
It's a practice facility that helps the best get even better. The hard part is getting back there.
SM
Sean Martin is a senior editor for the PGA TOUR. He is a 2004 graduate of Cal Poly-San Luis Obispo. Attending a small school gave him a heart for the underdog, which is why he enjoys telling stories of golf's lesser-known players. Follow Sean Martin on Twitter.